Looking for a new way to connect with customers and prospects on Facebook?
Have you considered Facebook Messenger?
Messenger wants to be the #1 choice for B2C communication and is fast approaching 1 billion users.
Soon ALL businesses will be supporting their customers with Facebook Messenger.
Messenger is fast and convenient. Now you and your customers can be away from your desk/website and still offer support.
Messenger for business pages makes it easy to offer instant one-on-one customer service, while keeping a record of the conversation.
In this article I'll explain how to use Facebook Messenger with your business page
First Step-To turn on Messenger for your page, go to Messages under General Settings and then click Edit. Select the option to allow messages to your page, and click Save Changes. Be sure to enable Messenger so customers and prospects can contact you.
If you're an admin:
Click Settings at the top of your Page.
From General, click Messages.
Click to check or uncheck the box next to Allow people to contact my Page privately by showing the Message button.
Click Save Changes.

Get along with a potential audience of over 1.3 billion people who are on Facebook platform.
As per the Facebook Reports
1.Two billion messages are being sent  between people  & business each  month.
2.53% person people are more likely to shop with your business by messaging directly.
3.56% of people would message rather than contacting customer service.
As we all know communicating with customer is not new but how we do it is important
If you have a Facebook page with messenger and if you follow the below suggestion then there is a high chance that your potential customer will be a paid one.
Build a lasting relationship with your customer
As billions of people are on Facebook messenger  it is important to let know the customer that you are listening to them & create a personal connections with them.
Always converse directly with your customer from your facebook messenger.
Answers your customer privately regarding your business and there orders and queries
Let them know your availability when you can message them & reply to their comments on your page
How to manage your messenger.
It's important to have a plan in place for receiving and responding to messages
Turn on messaging when you can commit to responding to messages or when business is closed, you can set your messaging status to Away, so it doesn't reflect your response time stats.
To enable this feature, go to your page's Messages and click Away in the upper left.

You can set a customisable greeting to appear when someone begins a conversation with your Page for the first time.
Whenever you're away from your computer or phone, you can turn on Away Messages to let customers know that you'll respond soon. This set a clear expectation with your customer .
To set the response time for your page, go to Settings and Messaging. Then click Automatically Show Your Average Response Time for Messages or select another option. (Response time will only show up if you visit your page at least once a week and answer 90% or more of your messages.)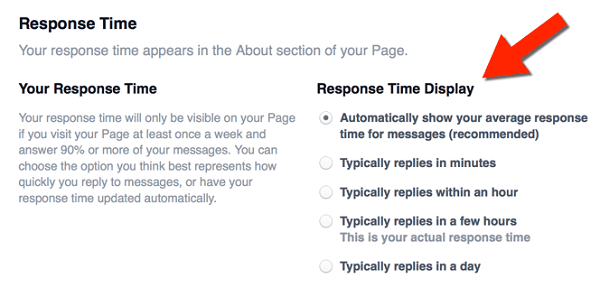 Entrepreneurs are often busy with many things when they're not chatting with customers. But customers don't like to be ignored. Answering their questions in a reasonable amount of time seems to be a problem, huh? You need help from autoreplies, which are time-savers that make you look professional and efficient.
Open your Facebook business page settings and click to the "Messaging" tab to set up autoreplies. You can write a message of up to 250 characters that they'll receive as soon as they message you. The autoreply won't be sent to users if your messaging status is set to "away." These messages may include images like your company logo, or any other personalizations you may like.
"Greetings" is another cool feature that can add personality to your business page. It is customized right below Instant Replies.
Turn on Instant Replies to send an automated reply to anyone who messages your Page. This feature can be used to greet customers and thank them for contacting you before you can respond personally.
To turn on Instant Replies for your Page:
Click settings at the top of your page .
Click Messaging in the left column.
Below Response Assistant, click to select Yes next to Send Instant Replies to anyone who messages your Page.
To change your instant reply message, click Change, update the message and click Save.
Look at your customer information cards to get information on your customer before responding. The context shows you their local time, where they live, order history and more information about that customer. This helps you tailor a message that's right for them.
Saved replies allows you to write, save and then re-use messages. These can be especially useful for commonly asked questions such as about your opening hours, email address or phone number.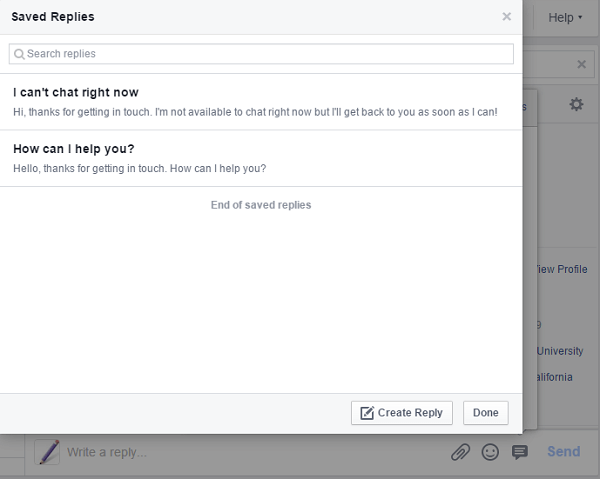 Add a Messenger Box to Your Website
Encourage your website visitors to contact you on Facebook with the new and improved Page Plugin.
Add a box to your website that showcases your page's timeline and upcoming events, along with the ability to private message your page.
Share Locations
Do you offer in-store pickup? Share your location with a customer in seconds to save time and effort spent on texting directions to your shop. Location-sharing makes it easier for customers to understand where you are, and to then navigate the route the way they want to.
It works the other way as well. Customers save themselves headaches by not having to type in their addresses. When you contact them via Facebook Messenger, they will be thankful!
More Tips
This isn't even the end of the useful hacks you can implement using Facebook Messenger. Other cool ideas you might want to investigate:
Integrating apps like Dropbox for sharing files, or Bitmoji for sending personalized graphics
Paying via Facebook Messenger (it may take a few days for the payment to clear, but there's no fee)
Add Facebook Chat application to your store
And let's not forget that chatting with someone on Facebook Messenger means you can have a look at their Facebook page. It usually contains a lot of useful information on who your customers are — you can look not only at ages, genders, and locations, but also these people's interests, events, and communication style. Keep this data in mind as you steer your Messenger conversations to be personalized and friendly to the maximum.
Are you using Facebook Messenger in a unique, unlikely way for your business? We can't wait to read your thoughts in comments below!